Free Open House Sign-in Sheet Reviews (and Free Downloadable Templates)
Jul 27, 2022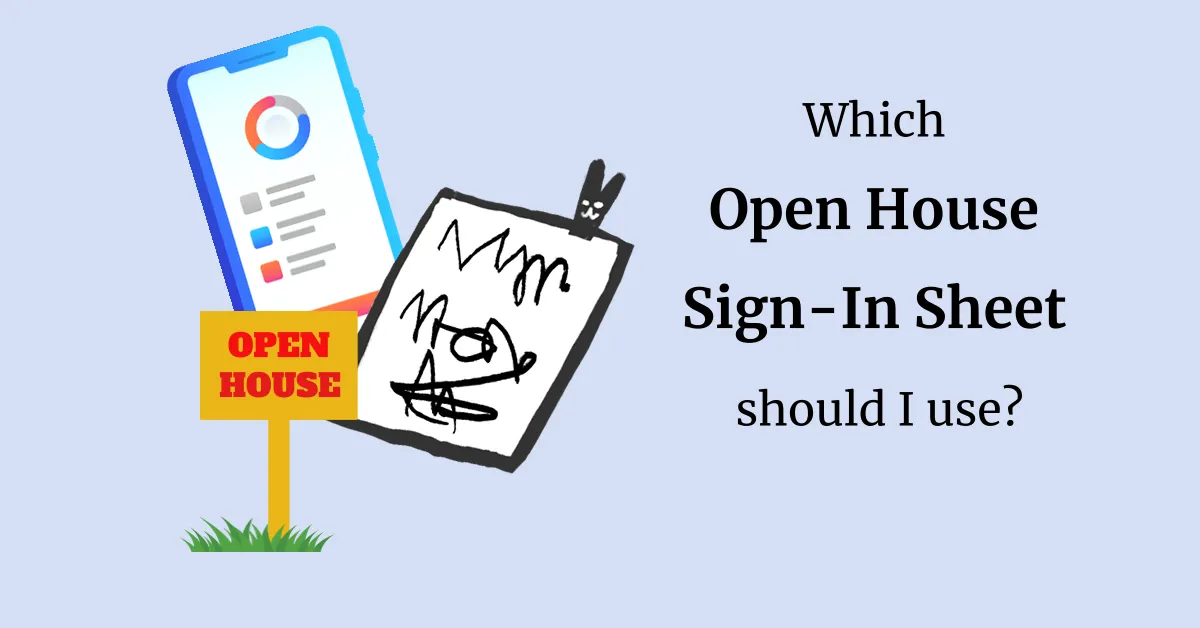 If you're a real estate agent, you know that one of the most important pieces of your business is the open house sign-in sheet. An open house sign-in sheet is a great tool for lead generation. With so many options available on the internet, it can be tough to decide which sign-in sheet is the best for you.
To help you make the right decision, we've compiled a list of the open house sign-in sheets (including a free downloadable template).
Open houses are about getting more leads
Open houses are a great opportunity for real estate agents to generate leads. While real estate agents might meet someone interested in buying the house that you're showing, according to NAR, only 4% of home buyers found their home through open house signs.
However, hosting an open house allows you to meet new potential buyers who might be interested in purchasing other houses in that area or the neighbors who might need to sell their houses.
Open houses allow you to meet new potential clients, understand their needs, and show them that you can be great assistance to your new potential clients.
As a real estate agent, your main focus during the open house is NOT to sell the house but to be the best assistance to the visitors. So, you can get the visitors' contact information and the possibility of doing business with you in the future.
Use an open house sign-in sheet to collect as many leads as possible at your event.
There's no better feeling than seeing your open house sign-in sheet full of names, phone numbers, and email addresses when you leave that house on a weekend afternoon.
Criteria for Grading Different Types of Open House Sign-In Sheet
There are different types of open house sign-in sheets, each with its advantages and disadvantages.
So, I will use these criteria to score each sign-in sheet and give you the best recommendation:
Easy to make: We will consider the time, tools, and skills to make this sign-in sheet.
Reusability: Once you make it, is it reusable? Is this something that you can easily misplace? How about a water spill?
Effectiveness in collecting contact: Can people enter contact info easily? Does it look professional?
2nd-Grader Open House Sign-In sheet
2nd Grader sign-in sheet is the easier DIY sign-in sheet that you can make, even your 2nd-grader kid can do it (disclaimer: you might have to spend 2 hours trying to convince your kid to do it and clean up all the mess).
If your broker doesn't have any open house sign-in sheet template for you, this is the easiest way to make one.
Get a piece of blank paper
Split it into 3 columns, by drawing a line from the top to the bottom.
Label each column as name, phone, and email. These are the 3 must-ask basic contact information on your sign-in sheet.
Voila... and, you've got yourself a 2nd grader sign-in sheet.
This sign-in sheet looks very basic but it gets the job done to help you collect contact information during your open house events.
Easy to Make
I just explained the whole process in 3 easy to follow steps, and you only need paper and a pen to make this sign-in sheet.
Score: 10/10
Reusability
Usually, this 2nd grader DIY sign-in sheet is created for one-time use only.
However, if you want to make a small impact in saving the trees and the environment, you can reuse this sign-in sheet in multiple open house events. Just make sure you know the difference between the new visitors from the previous open house.
I'll share one more benefit of reusing the old sign-in sheet. People tend to put their names on the sign-in sheet when they see other names already on there.
Of course, the challenge is not to misplace the paper or get it dirty until the next open house.
Score: 3/10
Effectiveness
This sign-in sheet surely can capture the visitors' information. Most people are familiar with this type of form, so the visitors won't need many instructions to fill out the form. However, the unprofessional appearance of this form could be a turn-off for some people. And, in the digital age where privacy concerns some people, some people hesitate to put their contact info out in the public for other visitors to see. This might result in getting a low number of leads, intentional unreadable chicken-scratch writing, or fake information.
Score: 2/10
Basic Open House Sign-In sheet
The basic open house sign-in sheet captures only the necessary contact information such as name, email, and phone numbers. It is similar to the 2nd-grader sign-in sheet except that you print out the form so it looks nice and more professional.
Additionally, you can add fancy-looking fonts, a company logo, your profile photo, and your contact info on the header of the sign-in form.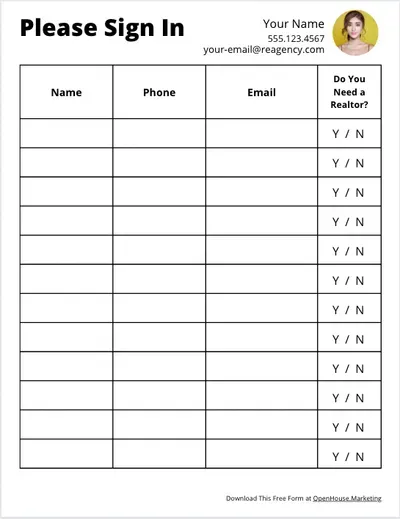 Easy to Make
Making your sign-in sheet can be easy or complicated depending on your skills and tools.
Luckily, many online tools are available to help you make your sign-in sheet. You can use a spreadsheet (ie. Microsoft Excel or Google Sheet), a word processor (ie. Microsoft Words or Google Doc), or online design tools such as Canva.
If you're not in the mood to create your own basic sign-in sheet, you can download our free sign-in sheet template below.
Score: 8/10
Reusability
Similar to the previous sign-in sheet, this sign-in sheet is printed for one-time use for each open house. If you create the form on your computer, you can easily reuse the same form over and over again without changing the design. Printing multiple copies of this sign-in form is as simple as clicking a button.
Score: 7/10
Effectiveness
The physical appearance of this printout form looks more professional than the 2nd-grader sign-in form. Including your profile photo and contact information can build more trust in people who are meeting you for the first time.
However, the concern for sharing personal information with strangers is still there, which can be a turn-off for some people. The basic sign-in form lacks a deep understanding of your visitors, and it will prevent you from helping them further. If you plan on following up with them, you can send a generic email to thank them for coming to the open house.
Score: 5/10
Lead Qualifying Open House Sign-In Sheets
We've discussed the importance of sign-in sheets during your open house.
But, how do you know which visitors are serious about buying a home and good prospective buyers in the future?
That's where good open house sign-in sheets come in. A good sign-in sheet will include space for visitors to write their contact information and some qualifying questions to help you understand the visitors' needs and the possibility of working with you.
Some of the qualifying questions that you can use to find interested buyers:
Are you looking to purchase a house in the next 6 months?
This is a direct question to the visitor if he/she plans to buy a house. It might not be the house you're showing but it allows you to have a further conversation in your follow-up email or call.
Do you want a copy of the listing sheet for this house?
This is not a direct qualifying lead question. I like this question because you're offering immediate help to the visitors when they need it the most. If the person is interested in the listing sheet, they will most likely provide the contact info with less resistance.
Are you looking for an investment house?
You should consider including this question in your set of questions because if you can connect with an investor, you might be able to make multiple transactions from this one lead. Isn't it great?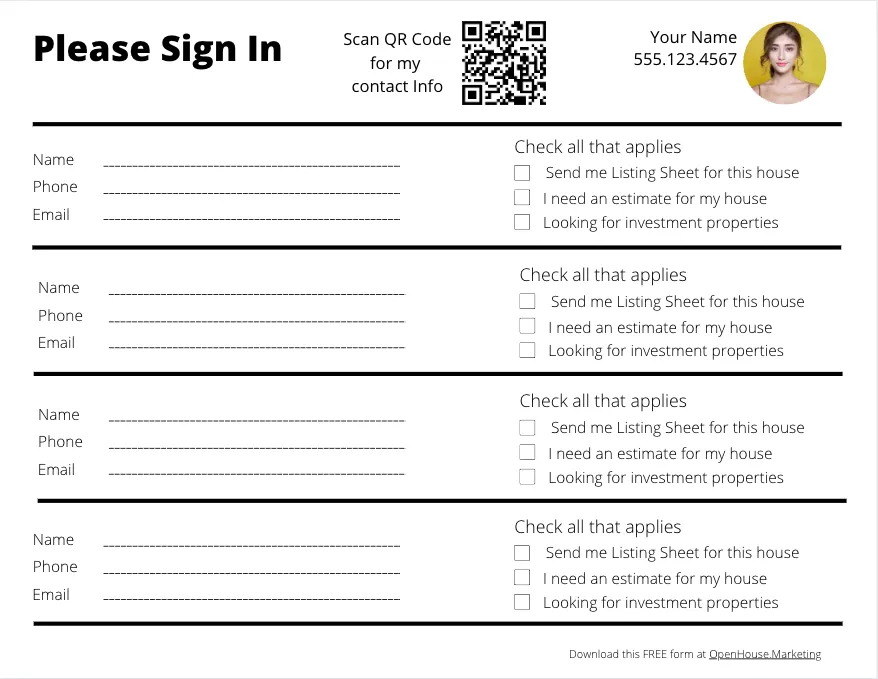 Easy to Make
For this lead qualifying sign-in sheet, you should consider making a template on a computer so you can use it repeatedly. You can use the online tools that I mentioned previously (above) to create this sign-in form. You can also download our templates and edit them in Canva.
This form might be a bit more difficult to make compared to the basic form since you need to think and experiment with the qualifying questions that you like.
My suggestion is to keep the number of questions to 3 or less. The more complex your questionnaires, the more hesitant people feel to fill out the form. After all, the visitors intend to see the house, not necessarily buy the house at that moment.
Score: 7/10
Reusability
Just like the other printable forms, once you create the template, you can print a few copies of this sign-in form easily.
Score: 7/10
Effectiveness
The lead qualifying form is more effective than the basic form. This type of form helps you start a conversation with the visitors, and find interested buyers. That results in higher quality leads.
When it comes to lead generations, higher quality leads are more valuable than the number of leads.
Score: 7/10
Online Sign-In Sheet
NAR (National Associations of Realtors) reported that 76% of home buyers use a mobile device in their home search. It seems like most buyers are very comfortable with using technology during their home search.
Why don't you use an online sign-in sheet during your open house?
There are a few things to consider when choosing an online sign-in sheet for your open house event.
Verify the sign-in sheet is easy to use and that it is accessible and looks good on various devices.
Ensure that the sign-in sheet is secure and that your visitors' information is safe.
Make sure that the sign-in sheet is customizable so that you can add your branding or logo.
The Benefits of using an online sign-in sheet.
You don't have to worry about losing the sign-in papers because all the information is stored in your CRM immediately
The form is always available as long as the internet connection is available
Eliminate entering the wrong data because of the ugly chicken-scratch handwriting
You can make some changes to the form, and it updates the form instantly
Increase your productivity by automating some follow-up activities
Easy to Make
You can use Google Form or your CRM system to make the online sign-in sheet. Designing an online form using Google Form or any CRM system is most likely easier than designing a printable form.
If you don't have any CRM system to help you manage your contacts and sales activities, I highly recommend Dubb Video CRM.
Make sure you take advantage of those lead qualifying questions as part of your online form to get higher-quality leads.
Score: 8/10
Reusability
Most people are already connected to the internet via their mobile devices. Visitors can easily fill out the sign-in form from their mobile devices. You don't have to worry about running out of sign-in sheets, or not having enough pens for the visitors to use.
A good online sign-in sheet automatically tracks when the data is entered, so you can use the same form multiple times and easily separate the data between multiple open house events.
Score: 9/10
Effectiveness
You should customize your sign-in form with your company logo and contact information at the minimum, and make it look professional.
Add lead qualifying questions so you can offer more customized and personal assistance during the visit and in the future.
For example, you can offer a copy of the digital listing sheet immediately if they give you our email address or phone number. And, you know the email and phone numbers they give you are not fake information.
Score: 9/10
Download Free Online Sign-In Sheets Templates