5 Real Estate "Micro-Influencer" Agents You Need to Follow
Jun 04, 2022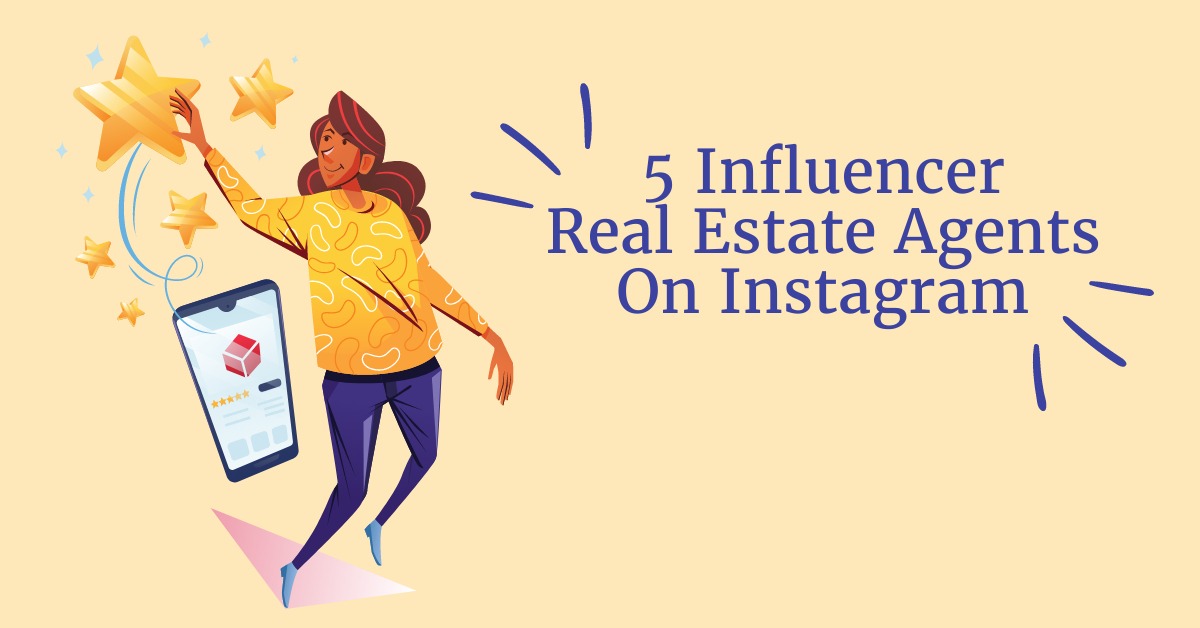 When I hear the word "Influencer" on social media, names like Kylie Jenner, Cristiano Ronaldo, or Khaby Lame come out. Those are people who have millions
of followers in the social media world, and possibly have the influence to impact your buying decision.
It's normal for us to trust those influencers if we keep listening to their stories, laughing at their jokes, and celebrating their accomplishments. So, the next time these influencers suggest a new energy drink or a new make-up kit, we trust their words and we might buy those products.
Will this psychological effect works if you don't have millions of followers on social media?
Absolutely!
There is a term called "micro-influencer" for people with large enough followers in a specific target market or specific geographical location, which I think perfectly fits the norm of how most real estate agents do their business.
Most real estate agents help people buy or sell houses in a specific city, and some agents go into a more specific market such as commercial buildings or luxury houses only.
If you're thinking about using Instagram or want to boost your Instagram online presence for your real estate business, here are 5 "micro-influencer" real estate agents that you need to follow and learn from.
1. Connie Segovia
Connie Segovia is a real estate agent serving Dallas/Fort Worth area in Texas. She is in the top 20 Dallas Real Estate Agents on social media. At the moment of writing, she has 33.5K followers.
Her Instagram feed shows mostly work-related posts, such as home tours, photos with clients who just closed the deal, and some general tips for buying a house. However, she understands the importance of personal connection and shares a glimpse of her personal life once in a while.
What are the first 3 things I noticed from her Instagram feed:
Home Tours - she has plenty of home tour videos
Happy Clients - you can find plenty of photos of her clients on the closing day, and the caption tells a personal story for each buyer
Personality
2. Ivan Grossman
Ivan is the "Reel King of IG" for Real Estate Agents. His unconventional posts as a real estate agent help him rake in over 19.4K followers. His Instagram feed is full of funny, entertaining, and educational reels.
Ivan helps people buy and sell houses in Austin, TX; the new home for migrating Californians, and major technology companies, including Tesla, Apple, and Google.
What are the first 3 things I noticed from his Instagram feed:
Reels - most of his recent posts are reels and he's really good at making reels too.
Funny, Entertaining, and Informative reels
I can't stop watching those damn-awesomely-done reels, and I'm not even looking for a house.
3. Lena Samigoullina
Lena Samigoullina Group is a luxury realtor with Keller Williams in Los Angeles, CA, and she has over 40.1K followers
When I first saw her Instagram feed, I got goosebumps the moment I laid my eyes on her beautiful "Off-Market Property" posts.
(Yes, I'm a sucker for off-market properties. Oookaaay... focus.... back to writing.)
Lena keeps the right balance between work-related posts and personality posts.
What are the first 3 things I noticed from her Instagram feed:
Off-market properties - you know how I feel about this already
Personality
Client Reviews - a great way to show happy customers, especially when you're dealing with million dollars transactions.
4. Yennifer
Yennifer is a great example of a real estate agent who serves a very specific market, a Columbian immigrant who wants to buy or sell houses in Florida. She has over 2200 followers. However, considering she is serving a smaller target market, that's still a good number of followers.
On her Instagram feed, you can expect to see a virtual walk-through of houses, educational posts, and sharing her company values/work ethics.
What are the first 3 things I noticed from her Instagram feed:
Serving the Columbian community in Florida
Educational posts, and interviews
House tour posts
5. Chad Carroll
Chad is the top real estate broker with Compass in Florida, and his team focuses on luxury real estate. Chad's Instagram account has 505K followers. He keeps his IG feed simple but full of beautiful and professional-looking photos of the properties.
What are the first 3 things I noticed from his Instagram feed:
Breath-taking photos of the properties
Personal posts
I can't figure out the secret of his IG success, but it shows that consistent quality work pays off.
Conclusion
The truth is that there is no "silver bullet" to getting thousands of followers on Instagram. It takes a lot of time, patience, and effort. However, it's still possible to get followers with some simple steps.
post often: A post every day or two is ideal.
be consistent: Posting at the same time every day will help you build a following.
be yourself: Post content that you are passionate about and believe in.